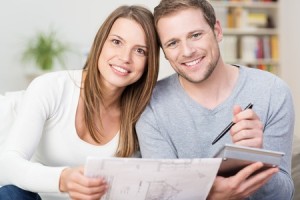 A person can have all the good intentions in the world for getting his or her household expenses in order, but without a written plan, this can be a difficult task! Creating a household budget can help families get their finances in order and help them develop a plan for getting bills paid on time. Here are some tips:
1. Set Financial Goals
When creating a household budget, families should consider where they want to be financially in five, 10, or 20 years. After setting aside money for monthly, quarterly and yearly bills and expenses, you should put money into savings or investments. Each account should have a destination, whether it's retirement, a child's college education, or perhaps a family vacation. It takes careful planning — and faithful followup — to reach financial goals.
2. Prioritize Bills
Household bills are not all equal. While it is important to pay all bills in a timely manner, this is not always possible in a real-life situation. Food, shelter and utilities are top priorities. Cable or internet are less important. A family on a limited income may have to let bills on unsecured debt slide for a few months. Families who are in extreme financial situations should contact their lenders, letting them know they are unable to pay this month's bill but intend to catch up as soon as possible. While this is not an ideal situation, it is sometimes the only available choice when money is tight in a household.
3. Cut out Unnecessary Expenses
There are some simple yet often overlooked ways you can cut down on expenses. Limit eating in restaurants to one or two times monthly. Families can save even more by using coupons at their favorite restaurants or going during special times, such as "kids eat free" night. Instead of going out to a cinema, try renting low-cost DVDs or watching a good movie on local television. Living on a budget does not mean a family must give up all recreation and fun; it just means being smart about the money you spend until you can get their financial situation in order.
Creating a household budget and sticking to it will take some discipline, but the reward will be having your finances on track and being able to accomplish short-term and long-term financial goals.